a solar-powered penthouse 70 stories over miami
New visualizations of the Penthouse at 1428 Brickell in Miami have been unveiled by Milanese studio ACPV ARCHITECTS. With architecture by Arquitectonica, the rippling, 70-story skyscraper, dubbed The Residences at 1428 Brickell, is poised to crown the Miami skyline by 2027 — see designboom's previous coverage here! Once complete, the two-story penthouse will span over 1,100 square meters with soaring eight-meter ceilings to exemplify luxury Italian design in the Floridian city. The building will be the first ever residential tower powered by solar energy, and will introduce 189 luxury homes in total — this penthouse will host seven bedrooms, nine bathrooms, and balconies opening toward breathtaking views over the Brickell skyline.
visualizations © The Boundary for Ytech
acpv architects takes influence from iconic modernists
In the design of Miami's Penthouse at 1428 Brickell, the team at ACPV ARCHITECTS notes influences from iconic 20th-century architects like Oscar Niemeyer and Philip Johnson. The interiors hope to channel these modernist design philosophies to create a space that balances elegance with functionality. The selection of luxury materials includes silk georgette marble, with its creamy, woodgrain-like striations, and robust eucalyptus wood. This palette pays homage to the famous designers, carefully chosen by the ACPV team during global expeditions. CEO of Ytech Yamal Yidios comments: 'Our objective was clear: to create one of the most exceptional penthouse residences in the world. The Penthouse at 1428 Brickell sets new standards in luxury living, not just in Miami but globally.'

the penthouse includes seven bedrooms, nine bathrooms, and skyline views
private amenities with italian craftsmanship at 1428 brickell
Collaboration between the development and design teams was integral in configuring circulation schemes, room flows, and specialized structural designs. From a sculptural staircase to an intensive solar study ensuring optimal light in every corner, every detail was carefully considered to immerse residents in panoramic city vistas and gradually blend indoor and outdoor spaces. The ambitious two-story floor plan incorporates an array of bespoke features, including a custom-designed library bar, a stunning master bathroom finished with Salvatori stone, and exclusive elements such as pivoting walls and a temperature-controlled wine cellar. The artisans at Vaselli will create a centerpiece kitchen, while those at Arclinea will add a separate chef's kitchen.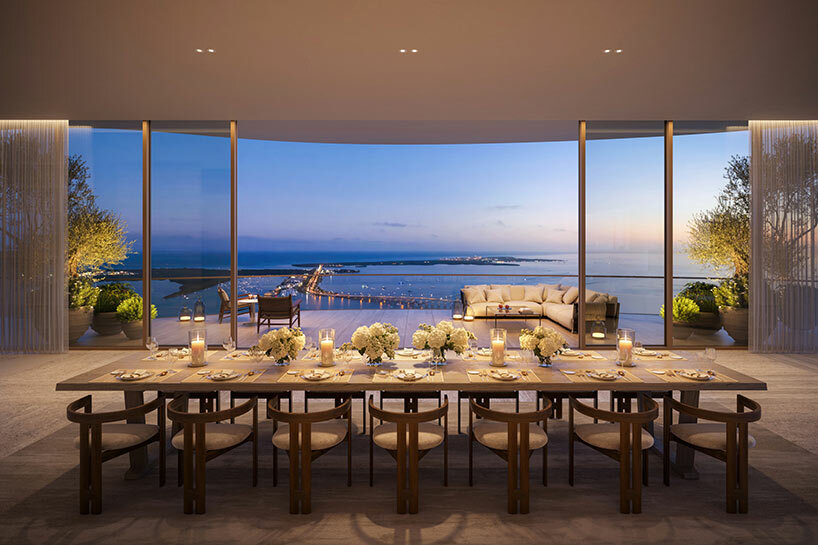 the material palette includes silk georgette marble and eucalyptus wood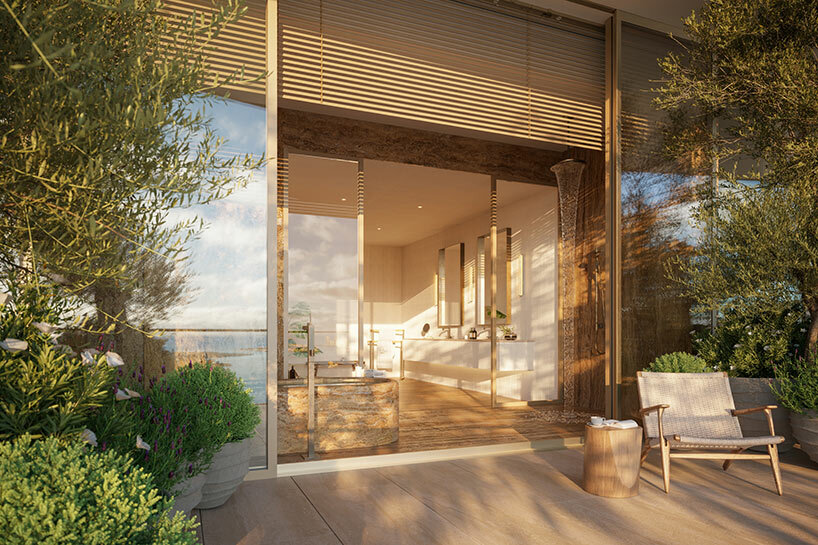 intensive solar studies ensure the interiors are shaded and passively cooled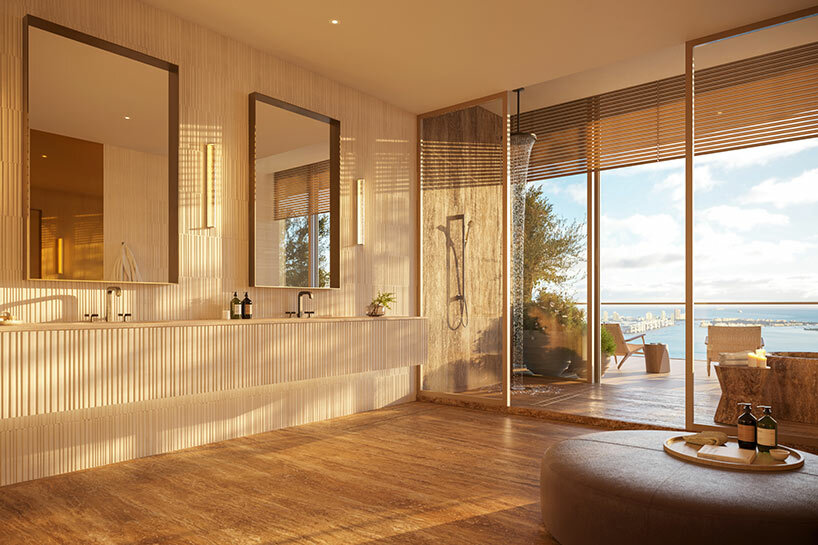 a master bathroom will be finished with textural Salvatori stone