Arada commissions Tadao Ando for II teatro at aljada in UAE
Japanese architect Tadao Ando was commissioned to design II Teatro, a new sculptural performing arts center soon taking shape in Sharjah's largest lifestyle community, Aljada. The project's lead developer, Arada, has revealed the designs of the fully-fledged cultural complex spread over 24,155 sqm. Featuring Tadao Ando's architectural simplicity, the Il Teatro at Aljada unveils a pure, cylindrical concrete mass facing a multi-layered cultural Plaza. A dramatic secondary feature further defines The performance arts center: a large, arched opening that animates the building front, forming a solid indoor-outdoor connection. It will host various performances and shows, including opera, theater, dance, ballet, musicals, concerts, films, art exhibitions, and festivals. Il Teatro will incorporate, in addition to a 2,000-seat auditorium, a gallery and a boutique restaurant. 
all renderings by Tadao Ando Architects, courtesy Arada
24,155 sqm center pairing cylindrical mass with floating plaza 
Spread over two levels: the Plaza is an elevated public space that floats above water and holds a large outdoor amphitheater that faces Il Teatro by Tadao Ando (see more here). A series of events and activities will be hosted at the Plaza, providing a multi-dimensional experience that inspires the country's growing creative community. Stone, concrete, light, and water poetically combine to 'leave a lasting, intergenerational impact through its emphasis on culture and art. I have designed the central structure of the building to be round like the Earth as I wanted to create a new world inside it that will attract not only local people but visitors from around the globe,' the architect shares. Il Teatro is the second of Tadao Ando's projects in the UAE, following the Armani Beach Residences at Palm Jumeirah, also in partnership with Arada, which was announced earlier this year.

II Teatro at Aljada, a new performance arts center in Sharjah
Il Teatro occupies a prime position within Arada's Aljada, situated on the main access road into the master community. It also sits at the center of the Naseej creative district, a cluster of 19 buildings that incorporates the Vida Aljada hotel and branded apartments complex, in which Emaar Hospitality will operate. Residents living in the creative district can enjoy access to Il Teatro via two 'green spines' or urban parks that contain lush foliage and dense tree coverage, with workshops, artist studios, and cafes facing the parks on both sides. Those living in the neighborhood will also enjoy a rich calendar of events, activations, performances, and exhibitions, all just a short walk away from their front door. Construction in Naseej District is already well underway, with the first homes due to be completed this year. Work on Il Teatro at Aljada will start next year, with the building and plaza scheduled for completion in 2027.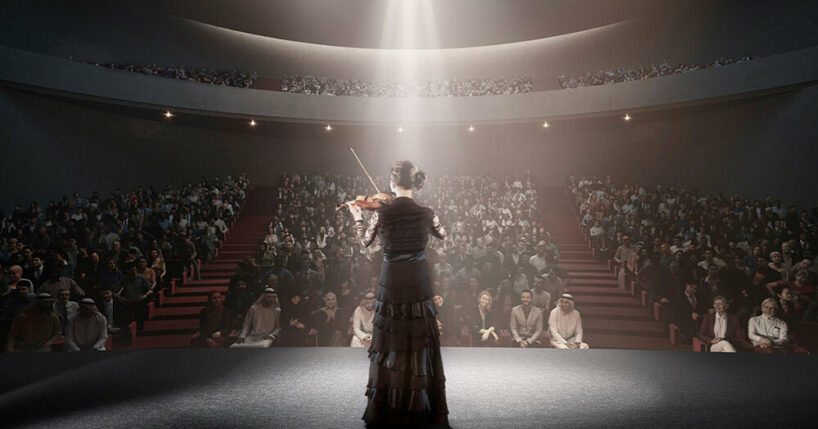 it will host a wide variety of performances and shows, including opera, theater, dance
project info:
name: II Teatro 
location: Aljada, Sharjah, UAE
architect: Tadao Ando | @tadao_ando_ando
developer: Arada | @aradaliving