a quiet haven for birdwatchers
Finland's scenic Vanhankaupunginlahti Nature Reserve serves as the backdrop for a floating birdwatching hut, named Piilokoju by its designers, the architects at Studio Puisto. The project stands as an example of floating architecture, offering a unique vantage point for observing birds in their native habitat while maintaining a commitment to ecological sustainability and accessibility. The main function of the Piilokoju is to provide a peaceful and unobtrusive space for birdwatching. Designed together with Helsinki environmental experts and local bird enthusiasts, the timber hut ensures visitors can closely observe birdlife without disturbing them.
Studio Puisto worked with both environmental experts and bird enthusiasts | image © Decopic, @huismandecopic
blending architecture into finland's wetlands
Studio Puisto had three key objectives in mind during the design process of its floating birdwatching hut: to blend the architecture into the landscape, to ensure ecological sustainability, and to use a single material. The Finnish architects aimed for the Piilokoju to prioritize an appreciation of nature, rather than draw attention to itself. The strategic location of the building amidst the wetlands is ideal for birdwatching. Here, visitors can easily blend amongst the tall reeds, rendering themselves invisible to the birds. Thus, it provides an unobtrusive vantage point from which observers can marvel at birdlife without disturbing it.

the Piilokoju Hut provides a floating haven for birdwatchers | image © Decopic
the floating larch wood structure by studio puisto
Structurally, the Piilokoju birdwatching hut is designed by Studio Puisto as a floating platform, an enclosed wooden raft featuring concrete pontoons beneath. To protect the fragile natural environment, the hide was pre-built off-site and transported intact to its final location. The walls, floors, and roof of Piilokoju are crafted from Finnish-grown larch. Larch's weather-resistant properties and graceful aging make it a perfect fit for this project. Ensuring equal access to nature for all has been a central goal of the entire nature preserve. Piilokoju exemplifies this commitment, welcoming not only bird enthusiasts but anyone that wants to be surrounded by nature. The hut can accommodate up to forty people at once, — suitable for school class trips and gatherings.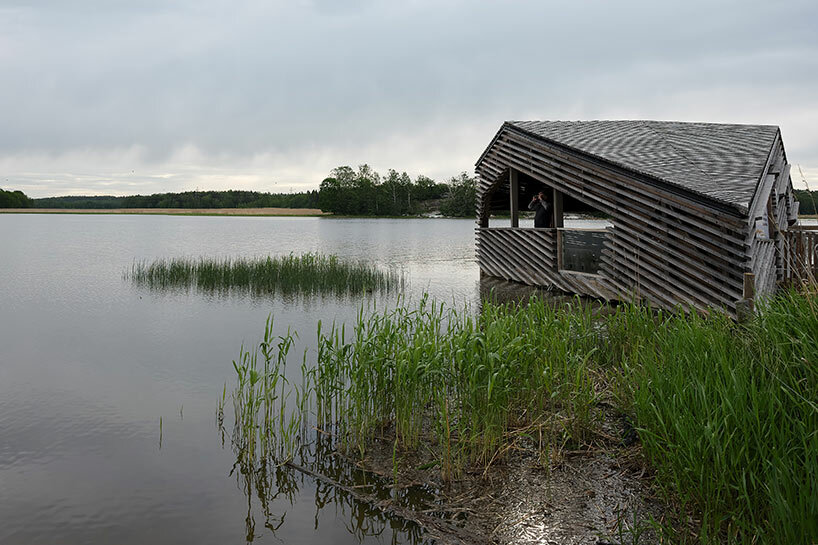 the architecture is designed to camouflage into the nature reserve | image © Marc Goodwin, @archmospheres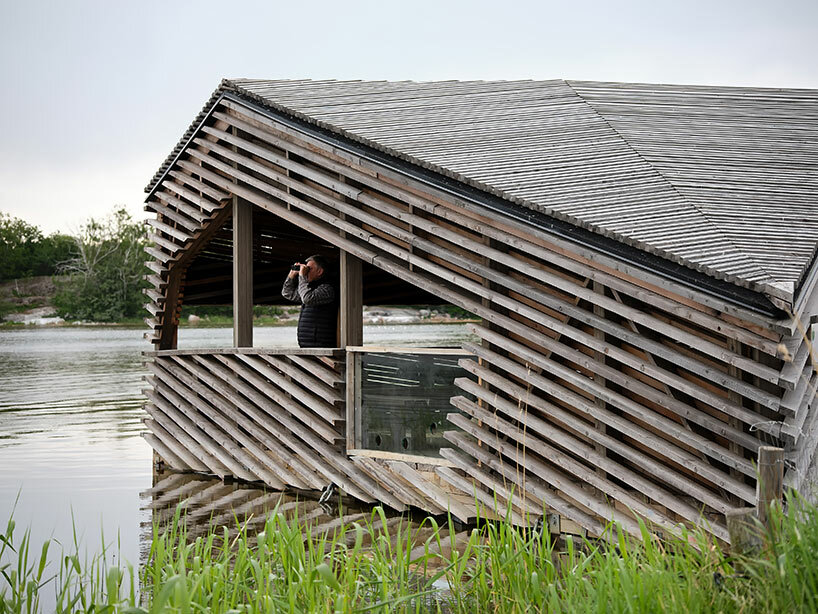 visitors can closely observe birdlife without disturbing it | image © Marc Goodwin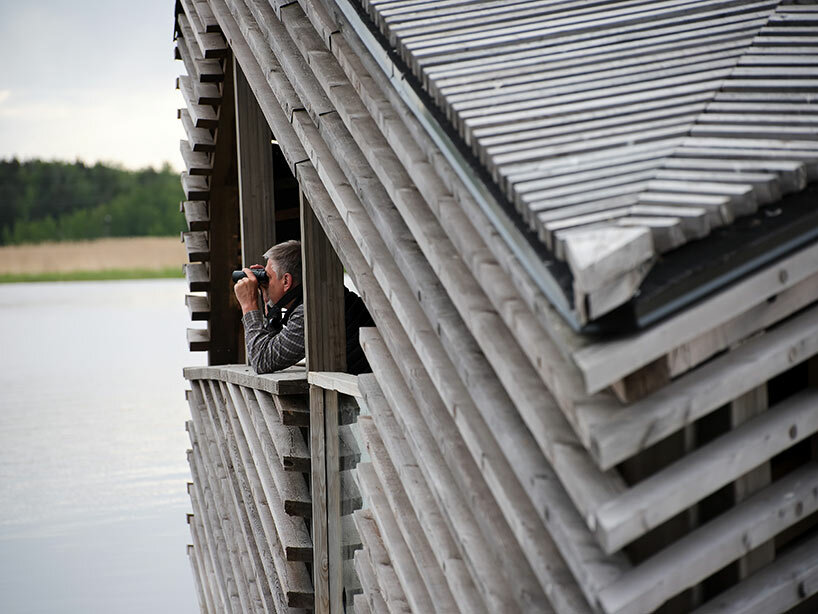 the larch wood facades will age gracefully and filter natural light through their slats | image © Marc Goodwin