Stone Island launches new poly strata ice jacket
For its AW24 collection, Stone Island unveils its thermal-reactive Poly Strata Ice Jacket which changes color from pink to stucco white when it gets exposed to heat or cold. The heat-sensitive garment was first introduced by Stone Island in 1989, and today, its Poly Strata Ice Jacket gets an upgrade as the brand infuses reactive pigments micro-encapsulated into the double layer of polyurethane. When the thermal-reactive Poly Strata Ice Jacket moves from a hot to a cold area, the design brings up a mix between the pink and stucco white shades, creating patches that resemble thermography scans. 
The thermal-reactive Poly Strata Ice Jacket is made in two layers of bonded polyurethane in which the outer shell reacts to temperature changes because of the infused micro-encapsulated reactive pigments. The different parts of the new Stone Island's garment are assembled using ultrasonic stitching reinforced with internal taping. Inside the fashion wear, the wearer can find a hooded down jacket that can be worn on its own, patched up using ultra-light nylon. Outside the jacket, the standing collar comes with two snap fastenings, and the shell and down jacket are also held together by a series of snaps.
images courtesy of Stone Island
thermal-reactive jacket comes in a sleeveless version too
Pink and stucco white are not the only colors available for Stone Island's thermal-reactive Poly Strata Ice Jacket. A sleeveless version in rust orange and brown is also present, still reactive with its two-layer bonded polyurethane with micro-encapsulated pigments. For this vest, the garment is padded through direct injection with premium feathers, and the down channels are made by gluing the nylon lining directly to the outer polyurethane. The result is seamless stitching with a visible division of ironed-looking jacket parts.
For Stone Island's thermal-reactive sleeveless jacket, the standing collar sits on a front-chest flap, which is both held by three snaps and a large Velcro pad. The side opening on the left side is also latched by a large Velcro part, and the brand's Fabric Research badge is sewn onto this side too. Stone Island says that this vest is entirely edged in cotton tape. The difference between the Poly Strata Ice Jacket and its sleeveless variant is seen through a detachable down inner layer that can be found in the jacket, while the vest comes with classic padding instead.

the Poly Strata Ice Jacket which changes color from pink to stucco white when it gets exposed to heat or cold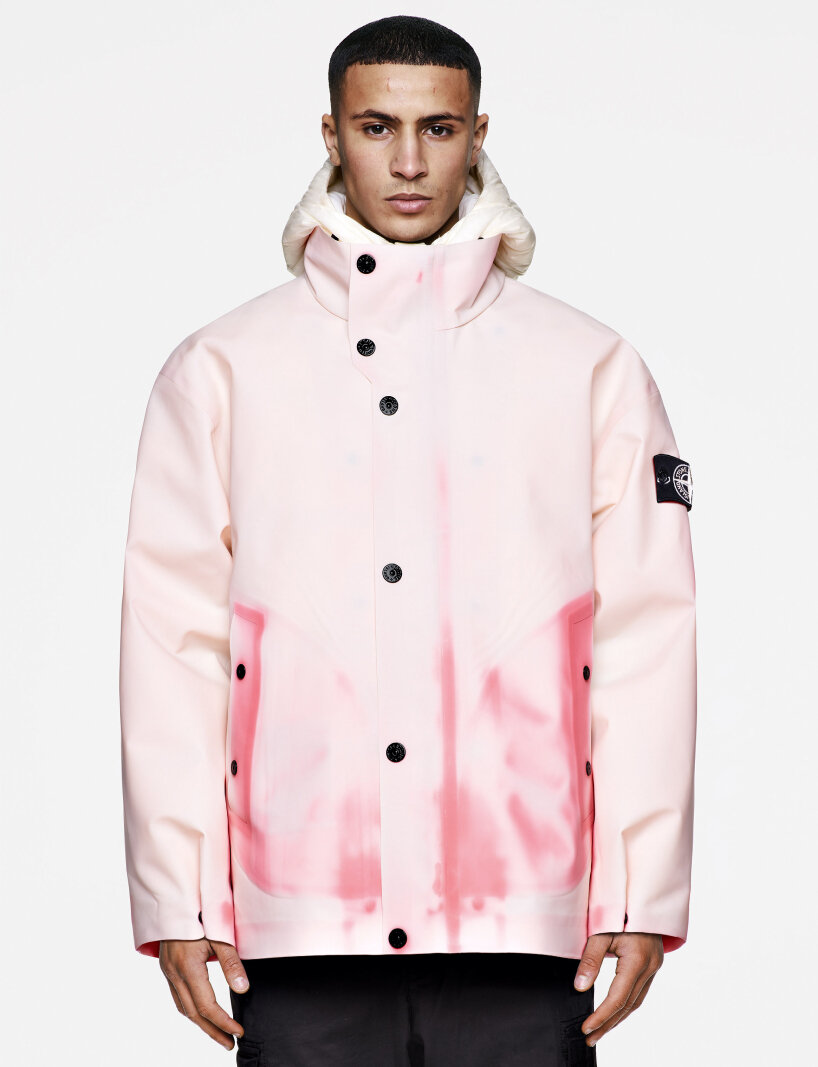 the heat-sensitive garment was first introduced by Stone Island in 1989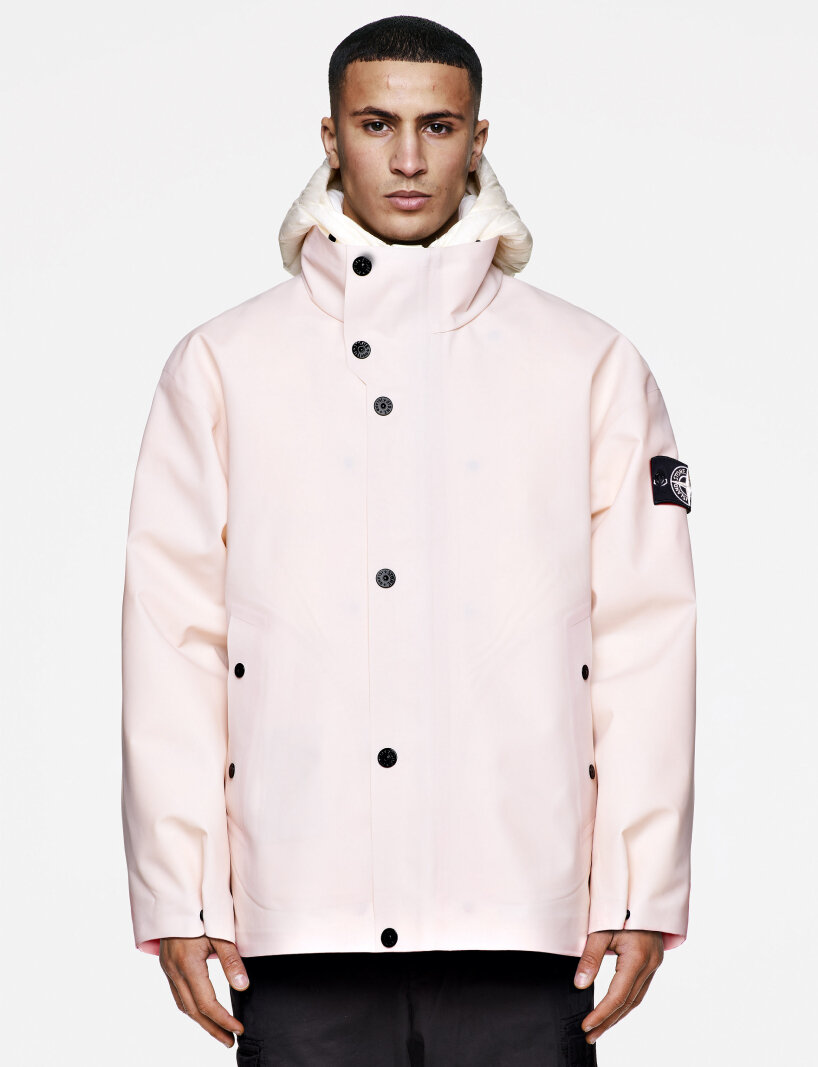 Poly Strata Ice Jacket uses reactive pigments micro-encapsulated in the double layer of polyurethane