"Dune" actor and heartthrob Timothée Chalamet returned for his second round hosting "Saturday Night Live" in an episode that felt a little turned around, like pre-Thanksgiving leftovers.
With the SAG-AFTRA strike over this week, Chalamet was free to promote his upcoming movie projects, including "Wonka," which hits theaters in December. (He did so, with mixed results, but we'll get to that in a moment.) The mix of sketches this week relied on some repeated bits and characters from previous episodes, but without a lot of guest stars such as last week's ringer Pedro Pascal, they sometimes fell flat or relied on Chalamet to carry the day. Unfortunately, the young actor's rhythm felt off in the live sketches, particularly early on.
A sketch about the Museum of Hip Hop's 50th anniversary celebration of the genre featured Chalamet as a white fur-clad rapper named Smokecheddathaassgetta, who through music streaming, is somehow the most popular hip-hop artist of all time. Things livened up when Chalamet performed one of his character's terrible raps, but it was a slog compared to last week's similarly themed and much sharper "Chef Show" with Nate Bargatze.
Another sketch on auditions for the audio narration of Britney Spears's autobiography was a chance to trot out impersonations of Chalamet (Chloe Fineman, who also played Britney and actor Maggie Smith), Martin Scorsese (Chalamet), John Mulaney (Sarah Sherman) and Werner Herzog (James Austin Johnson), among others. Then Chalamet joined Mikey Day as one of two giant-biceped gym trainers answering a call from a customer (Heidi Gardner). The host played not-exactly-mainstream, "gay-famous" internet sensation Troye Sivan in a sketch with Sherman and Bowen Yang.
A Please Don't Destroy video focused on a possible building jumper (Chalamet) who makes awful music. And in the last sketch of the night, Chalamet plays himself doing a poorly received recording for a meditation app before Alec Baldwin — the only celebrity cameo of the night and his first appearance since the 2021 fatal shooting on the set of "Rust" — pops in to take over. The musical guests this week, Boygenius, performed "Not Strong Enough" and "Satanist," and the three women from the band appeared briefly in the Sivan sketch.
This week's cold open started off as a wrap-up of this week's third Republican presidential debate, but it's paused with an appearance by Donald Trump (Johnson), who goes down the line insulting each of the debaters. It feels a lot like the Easter "Last Supper" sketch, when Trump made fun not only of the real-life politicians, but the frozen-in-performance "SNL" cast members playing them. In this one, Johnson, as Trump, points out how much Ego Nwodim doesn't like playing Vivek Ramaswamy and neither does he or the audience. It feels like low-hanging fruit to devote so much time to what the sketch itself calls the "Republican Kids Table Debate," but the Trump impersonation is spot-on.
In Chalamet's monologue, the actor reminded us that the last time he hosted "SNL," in 2020, everyone was wearing face masks and Lorne Michaels kept calling him "Winona." With the end of the strike, Chalamet said he could promote "Wonka," which led to an off-key (perhaps intentionally) version of "Pure Imagination" called "Shameless Self-Promotion." Last week's breakout player Marcello Hernández emerged to give some constructive criticism: He says Chalamet should ditch the tired old song style and do something fresher. So they rap a song about being "baby-faced dudes" before being joined by fellow baby face Kenan Thompson and for some reason Punkie Johnson in a pink wig as sort-of Nicki Minaj. It was more rapping than we ever need to hear from Chalamet, except that he was called upon to spit rhymes again in the very next sketch about the Hip Hop Museum. What Chalamet lacks in flow he makes up for in commitment, at least.
Best sketch of the night: 'Giant Horse' provides futuristic feels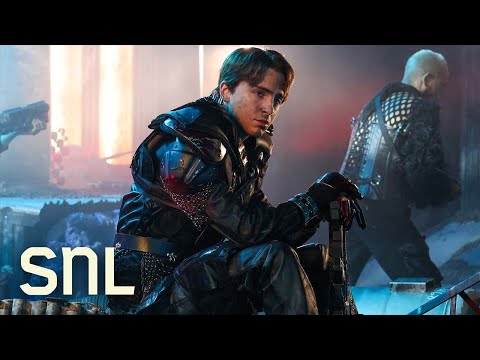 The best sketch of the night was also the strangest. In 2057, mankind's apparent last survivors are fighting a war against some evil being. Is it aliens? Is it AI? No, it's a gigantic Claymation-style animated pony named Tiny Horse who has grown so large that he can literally stomp down humanity. The sketch is told as a plaintive song performed by Chalamet, the best friend of the errant horse. In its combination of futuristic sci-fi tropes and childlike feelings, it's dumb and sweet and oddly touching. It would not be surprising if Tiny Horse toys pop up all over Etsy in time for the holidays.
Also good: 'Little Orphan Cassidy' wins our hearts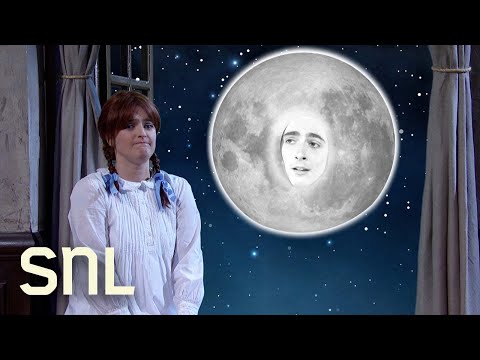 Featured player Chloe Troast hasn't gotten a lot of screentime on the show yet, but she brilliantly carried this sketch, a song about not being picked to be adopted from an orphanage. Troast's vocals in the sketch (it sometimes takes great talent to pretend to sing badly) are a roller coaster as the song reveals increasingly unsettling things about why her character, Cassidy, might be getting passed up for adoption. Chalamet plays the Man in the Moon, who turns from supportive to disturbed as the story goes on.
'Weekend Update' winner: Co-worker with too much work takes on too much sketch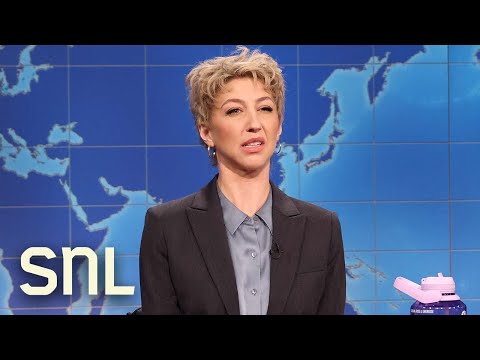 Gardner brought back her "Weekend Update" character Crystal, the co-worker who's always extremely busy doing nothing. The bit is funny; it worked back in April. But the encore performance, with Gardner noisily shuffling papers, yelling into multiple cell phones (one is hiding inside a Chipotle burrito), and stressing out, lost momentum with some garbled lines she tried to deliver through a mouthful of burrito. "Update" has taken to only having one cast-member spotlight sketch lately and when it's not a home run, it leaves the whole shortened "Update" segment feeling like it's lacking.