Industrial Revitalization of Kingway Brewery by Studio 10
Studio 10 undertakes the renovation of Key Interior Public Spaces at the Industrial Heritage of Jinpi Fang (Kingway Brewery) in China, delving into the preservation and revitalization of the original brewery led by Urbanus. Located in the unique geographical setting of Luohu District, a pioneer in Shenzhen's urban modernization, the Kingway Brewery transforms from an industrial building to a cultural landmark. As part of the renewal, the project focuses on the intricate balance between the old and the new, emphasizing contrasts, tensions, interactions, and dynamic equilibrium, utilizing the structure's industrial heritage. Studio 10 contributes to this endeavor by specifically handling the renovation design of crucial interior public spaces. The interior transformation strategy involves systematic recording, sorting, and preserving the original brewery's physical space and tangible equipment.
all images by ©ZC Studio
renovation balances old and new Industrial elements
The first floor of D2, a former fermentation tank workshop, serves as a preserved area showcasing the brewery's historical memory. The design team at Studio 10 follows a 'minimal intervention' principle, carefully documenting and restoring damaged tiles, stainless-steel brewing equipment, and intricate components. To accentuate the contrast between old and new, existing materials are repurposed and components are remade with contemporary materials. Techniques like Kintsugi are employed for damaged tiles, symbolizing the brewery's historical significance. The renovation carefully preserves traces of old windows, restoring them with unconventional materials. The new additions, including an auditorium and restrooms, strategically incorporate industrial architectural elements, creating a harmonious connection with the original structure. The design aligns with the broader strategy of preserving industrial heritage while adapting to contemporary needs.

Studio 10 focuses on systematic recording, sorting, and preserving the industrial heritage of the brewery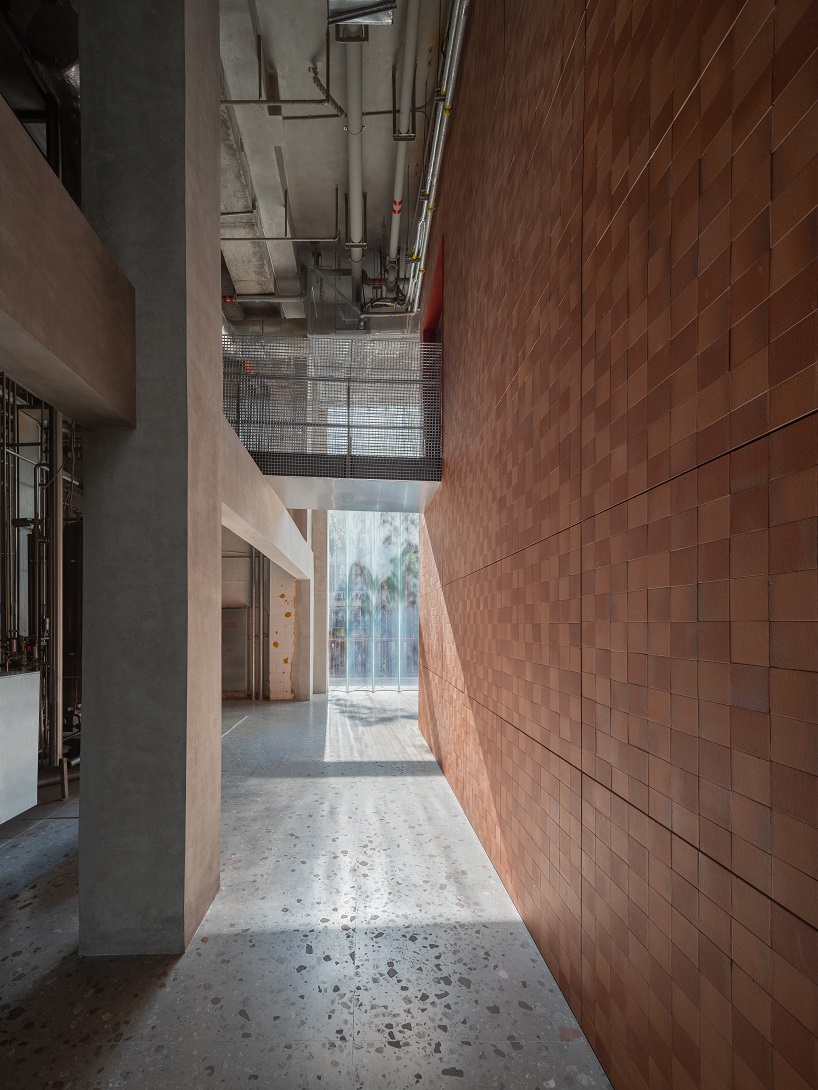 stainless-steel gratings illuminate preserved tanks, pipelines, and valves in the exhibition space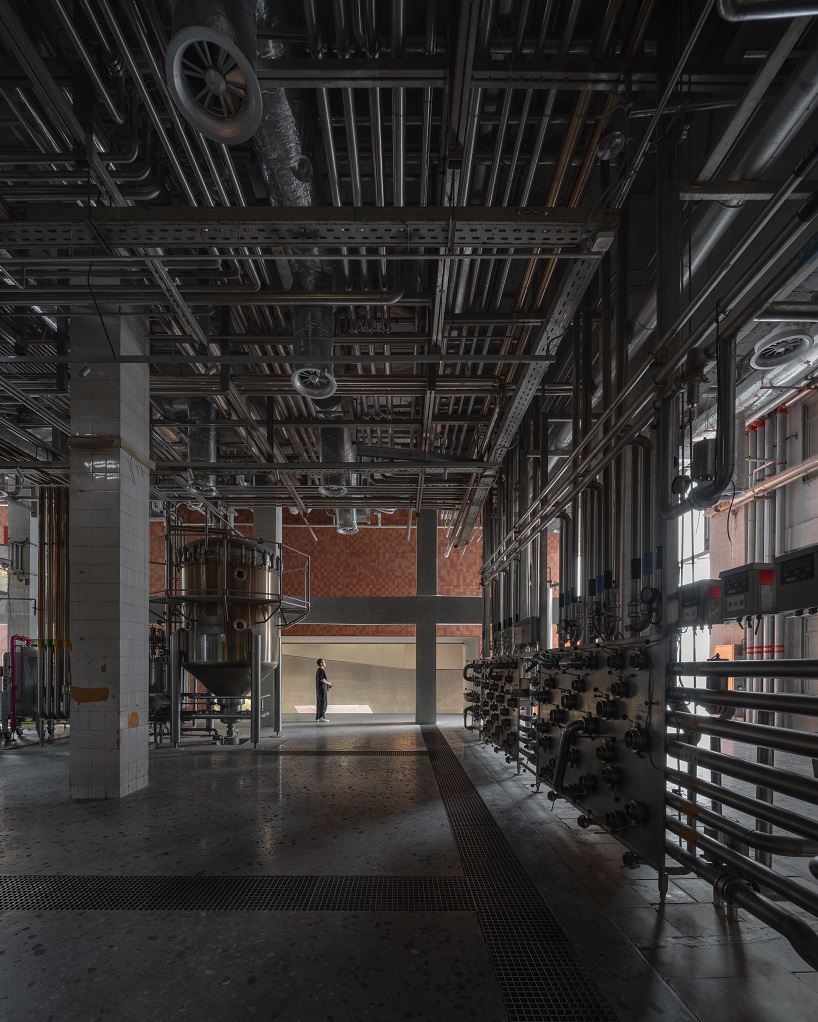 metal pipes connect tanks to holes in the ceiling, allowing for illuminated membranes and dim lighting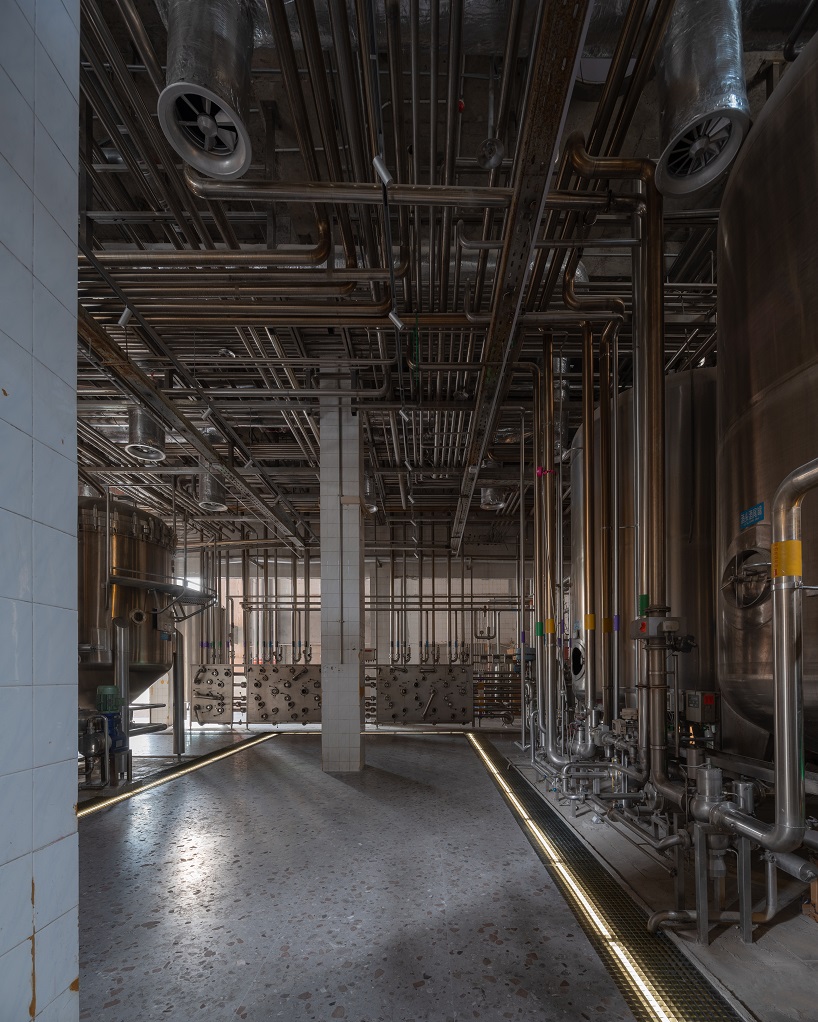 D2 exhibition hall serves as a preserved showcase of the brewery's history