Atsushi Kitagawara builds Learning Center in tokyo
On a triangular plot surrounded by roads, Atsushi Kitagawara has completed a Learning Center as a dynamic addition to a campus in Tokyo. Placed strategically at the heart of the campus' master plan, the structure functions as a central hub for cultural activities and communication, accessible to the three adjacent high schools. The Center features a 500-seat lecture hall, a library, a railway simulator room, and a storage area dedicated to housing retired Marunouchi Line train cars used as teaching materials. Due to road setback regulations, the building's above-ground volume is limited, leading to the use of a vast triangular mansard roof with reinforced concrete walls and steel frames. 
all images by Atsushi Kitagawara Architects
a Distinctive Parabolic design
The exterior of the building by Atsushi Kitagawara (see more here) is characterized by its parabolic openings, which provides a visual connection between the library and the street. Custom-crafted aluminum extrusion profiles featuring curved cross-sections envelop the exterior walls, resulting in a façade marked by horizontal interplays of light and shadow that pay homage to the school's history. Despite its compact layout, the upper-floor hall offers an excellent field of view and a strong presence, making it a versatile space for a wide range of school events. Its design incorporates specialized FRP acoustic panels on the walls, ensuring excellent sound clarity for lectures, musical performances, and theatrical productions.

a floating bridge connects the learning center with the campus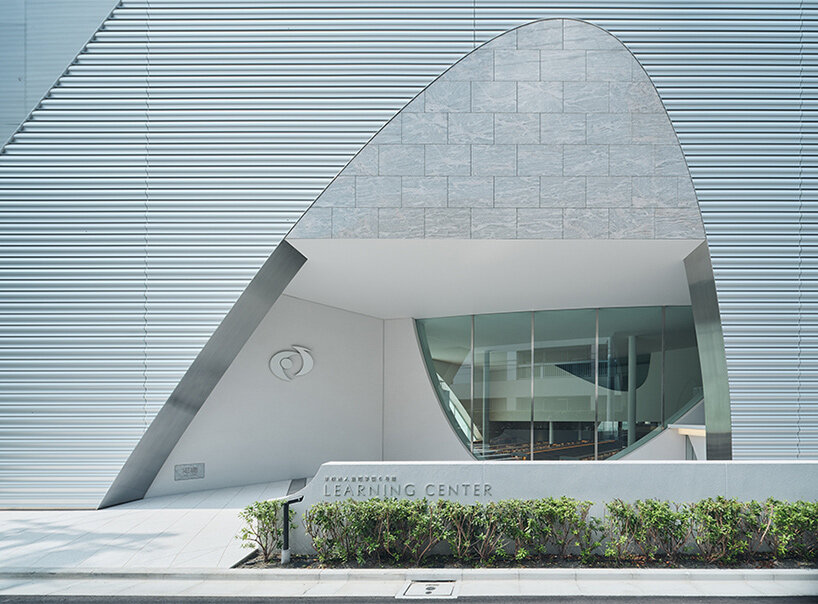 curved cut-outs add a dynamic appearance to the facade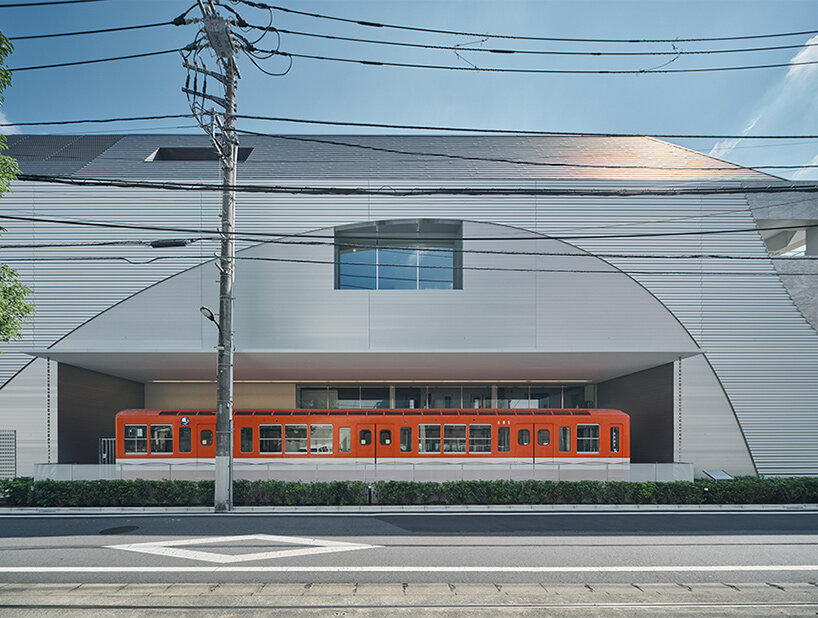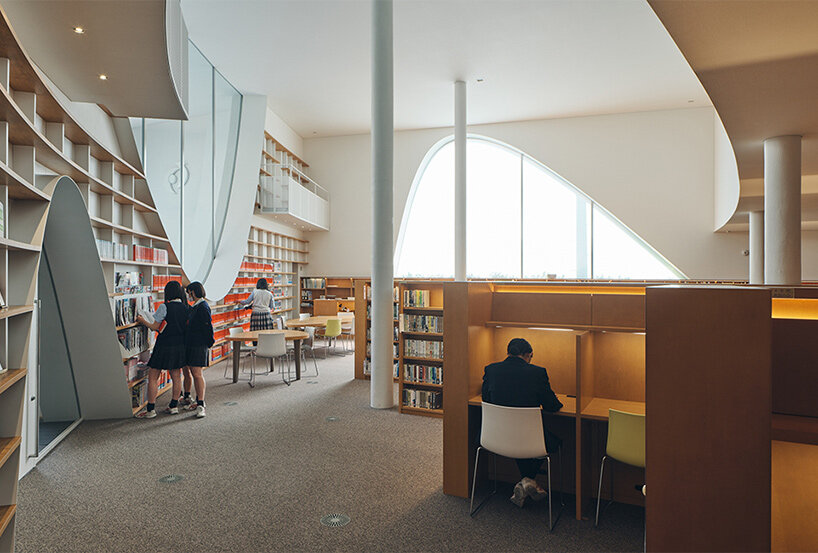 the curvilinear design offers visual connections to the surroundings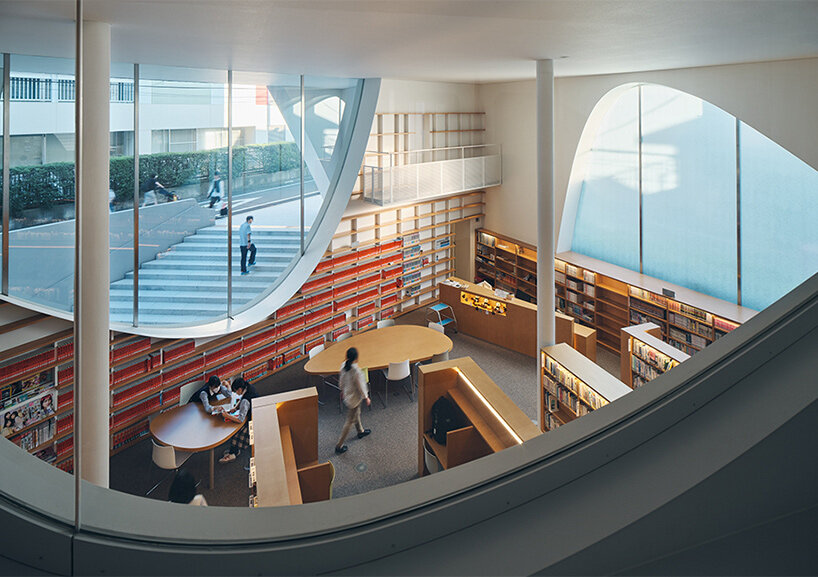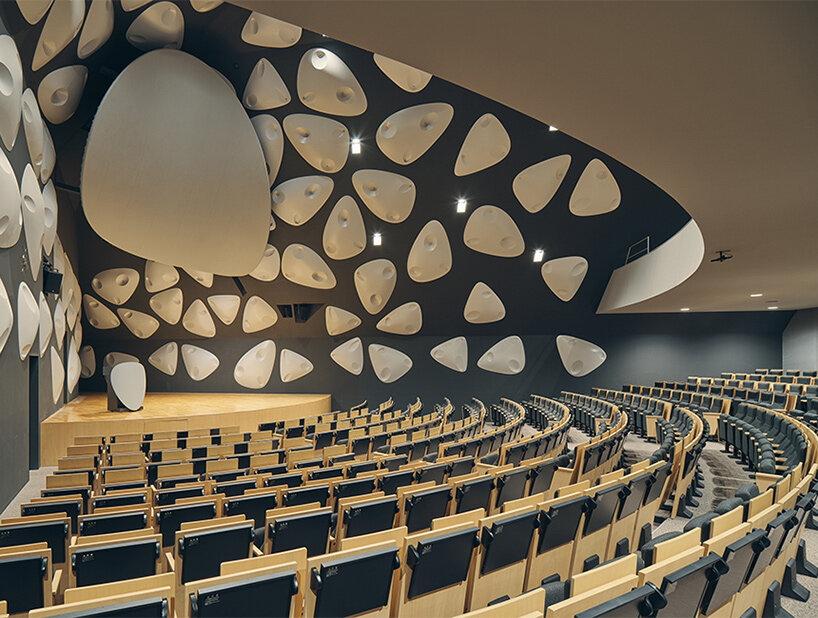 the design includes acoustic panels on the walls, ensuring sound clarity for lectures and other events
project info:
name: Hosho Gakuen Learning Center Building n.6
architects: Atsushi Kitagawara Architects
client: Hosho Gakuen
constractor: Kumagai Gumi Co.,Ltd.
site area: 989 sqm
building area: 688 sqm
total floor area: 1993 sqm
number of stories: 1F-5F
structure: RC+ S
structure engineer: TECTONICA INC.
M&E Engineer: Architectural Energy Research Institute
main use: High School Learning Center (500 seat hall, library)
location: Toshima-ku, Tokyo
completion date: 2022.08
christina petridou I designboom
nov 09, 2023