By the early '80s, James L. Brooks had already had an enviably successful career in television, a decade of Emmy-winning work that included the creation of "The Mary Tyler Moore Show" and "Taxi."
But was his most influential piece of entertainment still ahead of him? Setting the template for the sort of tender funny-sad movie that would become a Hollywood staple, 1983's "Terms of Endearment" is rooted in the experience of a Houston widow, Aurora Greenway (Shirley MacLaine), and her relationship with her daughter, Emma (Debra Winger). Jack Nicholson plays a former astronaut who lives next door to Aurora, and the cast also includes Jeff Daniels, Danny DeVito and John Lithgow. Only four years after its release, Times critic Kevin Thomas referred to the movie as "one of the key American films of the '80s."
An adaptation of the 1975 novel by Larry McMurty, "Terms of Endearment" would go on to win five Academy Awards, including three personally for Brooks, for directing, screenplay and best picture, as well as two for MacLaine and Nicholson. (Winger and Lithgow were also nominated.)
The film is being re-released on Blu-ray on Nov. 14 in a new 4K transfer from the original camera negative approved by Brooks. The set also includes a commentary track from the 2001 DVD release of the film featuring Brooks, co-producer Penney Finkelman Cox and production designer Polly Platt.
After "Terms," Brooks continued to largely go from success to success, directing "Broadcast News" and "As Good as It Gets" among others, while helping to launch the feature debuts of Wes Anderson and Cameron Crowe. (He's also a producer on Kelly Fremon Craig's recent adaptation of Judy Blume's "Are You There God? It's Me Margaret.") Brooks also, of course, was involved in creating the long-running animated series "The Simpsons."
He recently sat for a brief interview with The Times to reflect on "Terms of Endearment," contemporary Hollywood and how, at 83, he isn't done yet.
When you made "Terms of Endearment," you had a lot of experience in television, but this was your first time directing a feature. And it doesn't feel like anybody's idea of a first film. Did you approach the movie with a lot of confidence going in?
No, I approached it with complete innocence, which is so great and helps so much. And you only get it once. And I think that's what helped me — my being naive. You don't know what you're not supposed to do. There's nothing you're doing by rote. Every day you come to work has a newness and energy to it. And learning on the job — it's good. In a bad situation, I guess it can be overwhelming, but it really helps. It's not like you've done it before.
Is it striking to you that a movie like "Terms" is now rare and difficult to get made in Hollywood these days?
I think everything's difficult to get made theatrically. That's becoming tough to do. But it was quite a cast to bring to the game. Debra Winger was the star of the moment. Jack Nicholson — we wouldn't have had a movie without Jack Nicholson. I wouldn't have known who else to go to without Jack Nicholson. And I was fortunate that Debra knew him personally and was able to get the script to him because I don't think I could've gotten the script to him. And before I got him, I tried to think of who and I couldn't. And that was scary.
What was it about McMurtry's novel that appealed to you?
It was the second time in my life that I had cried when I read the book. And I thought that there was sort of a biological truth that I had to live by and just follow that.
What do you mean by biological truth?
I had cried once at a tragedy in life. I wasn't a crier at the time. I've since improved on that score. And when I read the book I was in tears and that removed all questions for me.
It's really become a part of the lore around the movie that Shirley MacLaine and Debra Winger didn't get along. For you as a first-time director, how did you navigate that?
There was a moment — I don't think she'd mind my telling this story — there was a moment when things were bad in a certain way and Debra wouldn't come out of her hotel room. I hope she wouldn't mind this. I don't think so because we came out of the picture really appreciating each other. And she won't go out of her hotel room. And we are up against a holiday where if you didn't finish shooting, people come to grab you and the world falls off. And I went up to the hotel room and I knocked on her door. And she said, "Jim, I just can't, I just can't see you right now." And I said, "I have to go to the bathroom," and she said, "Nice try." And I walked away in failure. But I think that sort of broke the ice, because everything suddenly wasn't so serious. And out she came.
This film began a very fruitful collaboration you had with Nicholson. He's in four of your movies and won two Oscars. What did working with him come to mean to you?
The short answer is: everything. He used to come up behind me and — it was my first time directing — and he'd say, "You want to know the worst direction you gave today?" And he'd tell me. And then he'd come up, "You want to know the best direction you gave today?" And it was just so great. And what he brought with him, especially with all the stuff you hear about the cast and everything, is joy for the work and a light touch. And just the karma of that was great.
Can I ask when you last spoke to him? As of right now, his final role will be in one of your films, 2010's "How Do You Know."
I don't know whether that's true. We're in touch, we're periodically in touch. I just think he's one of the great humans.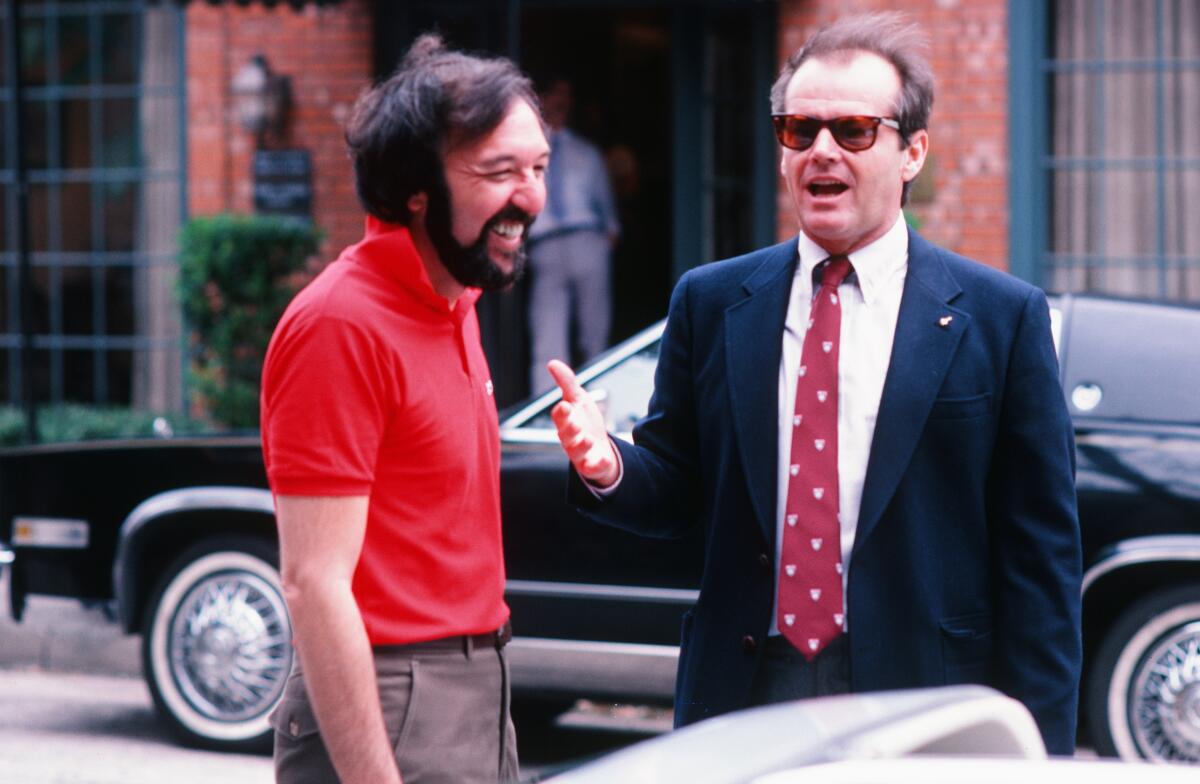 On the commentary track, one of the people you're in conversation with is Polly Platt, the production designer. The two of you worked very closely over a number of years. And yet her role was often difficult to define from movie to movie. Why did you and Polly eventually stop working together?
There was no breakup or anything. I mean, we were close forever. And what she had was, in a really down-home retrograde way, she loved the ass off movies. She loved movies. And she had a deep history with it. And she was a purist. It was great to be around. It was funny with dailies because she didn't like studio executives. So whenever the studio came in to see me, Polly would sit there making faces at them.
The word for her is irrepressible. And I was just thinking about it the other day because she told a story where John Ford gave her his hat. And then I saw the other day a picture of him, and indeed he was wearing the hat that I saw that he gave Polly. She loved movies in a great way, that had a contagion to it, and that had a sense of service to it. And she was unique and she misbehaved. She was exciting and she was an extraordinary mentor to women. She didn't break them in two, she made them wonderful for the rest of their lives, which tended to be what happened.
One of the projects you worked with her on was "I'll Do Anything." Do you foresee a day when the Prince estate relents and you can release the musical version with his songs on it? Because I would buy that disc in a second.
You know something, I was obsessed with trying to do it because the movie was a tremendous failure. And one of the things I've thought of is that nobody has just gone and done a documentary of, "This is what happened to me and let's look at it." And nobody's done it yet, that door is still open. Still, nobody's done that. But I couldn't get the rights of his songs. And that's what stopped me.
Are you still pursuing that? Do you think anything will come of it?
No, it was a long time ago.
Do you think that you'll direct again?
I'm going to, early next year.
You have a new film you're going to be directing? That's so exciting.
I think I will, because people are gathering now. I might as well.
You've often shepherded younger filmmakers along. How does that help you in your own process?
It's always good to keep serving a film in one way or another. And it's been great. I took a very long time writing the script I'm about to do. Like, I won't say how long. So I was always doing it. It started in a certain way and then it took a path. But that's the picture I'm going to make.
Is Hollywood a lot different now from when you were making "Terms"? Is it difficult in the same way?
That glut of streaming is really something. And to make a specific movie that you care about, that comes out of you, that represents you, and make that as a theatrical movie is even harder now. When there's so much data before you start, and I understand it, there's actually numbers that tell you whether you'll make money. And they tend to be right.
And are you hoping to have this new film be a theatrical project?
Oh, it will be. It is.
You've often said that people remember "Terms" as a drama, but at the time it really played more as a comedy. Why do you think that is?
The whole thing was to make it as a comedy. The whole thing was to clock laughs. You had to, in order to do it right. And of course, once the audience leaves and it has its afterlife, it's a drama because people are watching it alone. But I swear to you, in the theaters it was a comedy.
You had this personal goal of getting people to somehow laugh at the word "cancer"?
I got obsessed with it because the word was such an awful word at the time. It was such a conversation-killing word at the time. And I thought making it as a comedy, that had to be a goal: how to get a laugh on the word "cancer." And we sort of got there.
I think of that tone as your trademark. It's a little bit sad, a little bit funny —
Well, hopefully a lot sad and a lot funny.
What is it that you like about working in that register?
Life. I mean, that's what real life is, isn't it? Somewhere in there.