A black-and-white leather jacket that Michael Jackson wore in a 1984 Pepsi commercial sold for $306,000 at an auction in London on Friday. 
The jacket was listed by auctioneers Propstore among items connected to other music legends like Amy Winehouse, George Michael, the Beatles, David Bowie and Elvis, according to BBC News. 
Jackson wore the jacket as part of a series of Pepsi New Generation commercials. In another infamous ad, his hair caught on fire after an accident on set and he had to be treated for burns. He wasn't wearing the auctioned jacket at the time. 
ALAN ALDA'S 'M*A*S*H' BOOTS, DOG TAGS UP FOR AUCTION
Jackson died of cardiac arrest caused by "acute propofol intoxication" in 2009 at 50 years old. 
George Michael's leather and denim jacket that he wore in the video "I Knew You Were Waiting (for Me)" with Aretha Franklin sold for $115,000. 
Jackson's jacket had been expected to sell for as much as $488,000 while the price guide for Michael's expected it to go for up to $73,000. A hairpiece worn by Amy Winehouse while she was shooting the video "You Know I'm No Good" sold for nearly $23,000. 
GET FOX BUSINESS ON THE GO BY CLICKING HERE
A crystal-studded glove that the King of Pop wore during the Jacksons' 1984 Victory tour previously sold for $190,000 at auction and Kim Kardashian reportedly spent more than $65,000 in 2019 on a jacket from Jackson's "Thriller" video as a Christmas gift for her daughter North.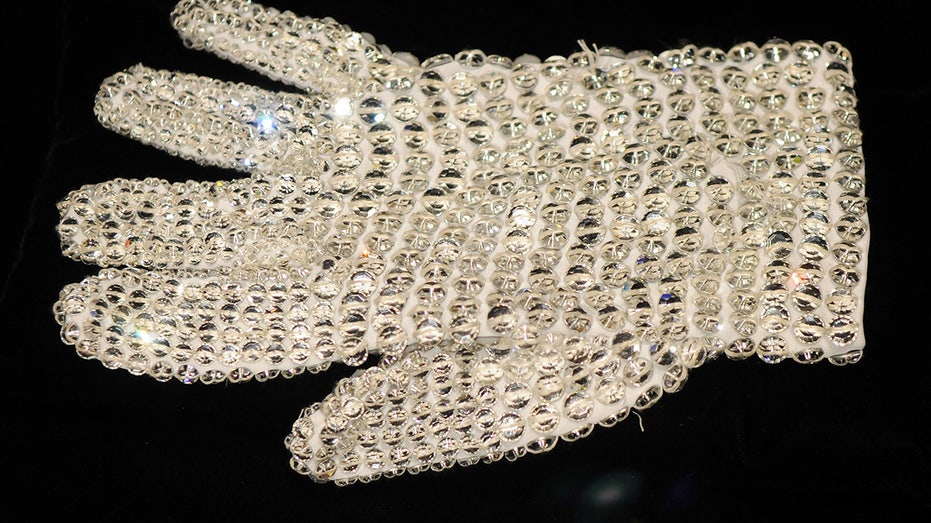 "North is a really big Michael Jackson fan and we knew she would love this," Kardashian explained in a video clip at the time. "We won this on an auction for Northie for Christmas."
CLICK HERE TO READ MORE ON FOX BUSINESS
At Friday's auction, a Beatles limited edition "Yellow Submarine" jukebox, and a guitar owned by Angus Young of AC/DC, went unsold.