If you own a flat-screen TV, chances are that it will eventually need cleaning as it begins to accumulate layers of dust over time. We know that cleaning your TV (or any large display for that matter) can be a mammoth task, especially if you own an 80-inch+ display, but we're here to help. 
Some of the best TVs are often rather large investments and it's important to understand the correct way to clean your TV, not only to improve the quality of the visuals on the screen and eliminate streaks, but to prevent any damage occurring to your TV in the process. Especially with specialist products such as the best frame TVs, you'll need to be cautious with which products and cleaning tools you use. 
It can be easy to ignore how messy our TV screens get, but not cleaning your TV regularly will impact your device, and you might not even realise that things have gotten out of hand until you can't see the Netflix logo as clearly anymore. A clean screen is vital for your health too, as it can harbour unwanted bacteria.
We also have handy guides on how to clean a laptop screen if you spill your coffee, and if you're an Apple user we have a separate guide just for you on how to clean a MacBook screen, as these glass displays need a bit of extra TLC.  
Joyce French has worked in the cleaning industry for over twenty years. Joyce specialises in domestic cleaning and works closely with HomeHow.co.uk to provide expert cleaning knowledge to homeowners, tradespeople and news outlets. 
Caution: If you use the wrong products to clean your TV, it could cause permanent damage to the screen and void any warranties you have. 
So, it's important to be very careful when cleaning your TV and a good idea to check the manual (or manufacturer's guide) provided with it to ensure which products are safe to use and which ones are a no-go. Be aware that you should also never spray anything directly onto your TV screen, and onto a separate cloth instead, as this could cause damage to your TV.
Step 1 – Turn it off
This might seem obvious, but the best way to start cleaning your TV is to switch it off (or at the very least display a dark screen) to ensure you can see every inch of the surface and any dust particles that linger on it. It's also much easier to see and deal with streaks when the screen is completely black.
Step 2 – Use a dry and soft microfibre cloth
Start by removing any visible layers of dust from your TV. It's advised to use a dry, soft microfibre cloth (without any chemicals or products yet) which is designed for gentle cleaning and delicate surfaces, and begin gently wiping over the surface of the screen to remove any dust and stubborn smudges.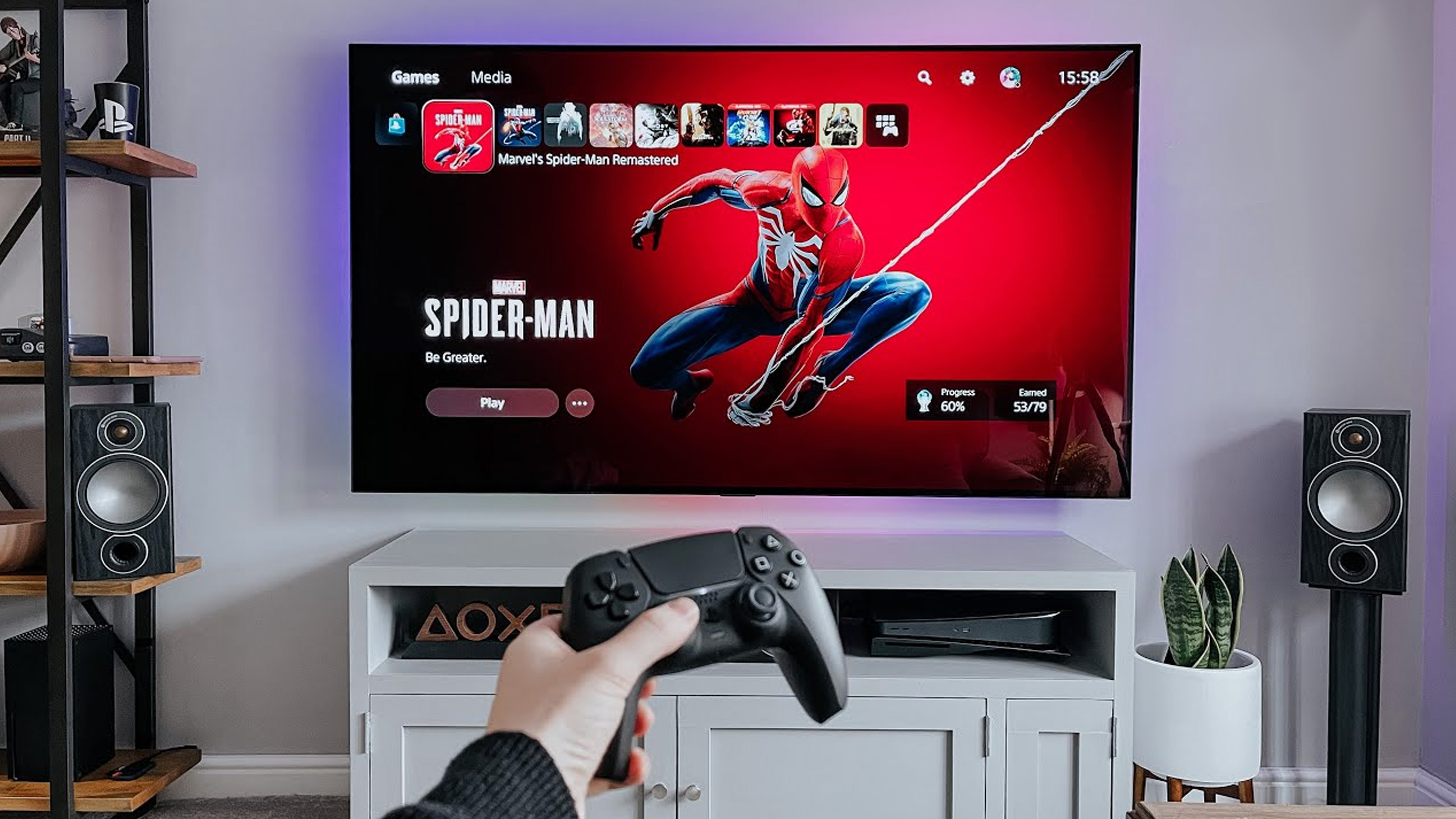 Are you a big-screen gamer? See our picks of some of the best TVs for PS4 and the best TV for PS5. 
Step 3 – Use some electronic-safe wipes
If you have any lingering smudges or marks on the screen after using the microfibre cloth, it's best to go over your screen again and use some pre-moistened wipes designed for use with electronics, to gently remove any spots or marks from your TV screen. 
To avoid leaving any streaks behind, you should first wipe the screen horizontally and then again vertically. Fold or flip the cloth over regularly during the process to avoid pushing around any of the collected dust.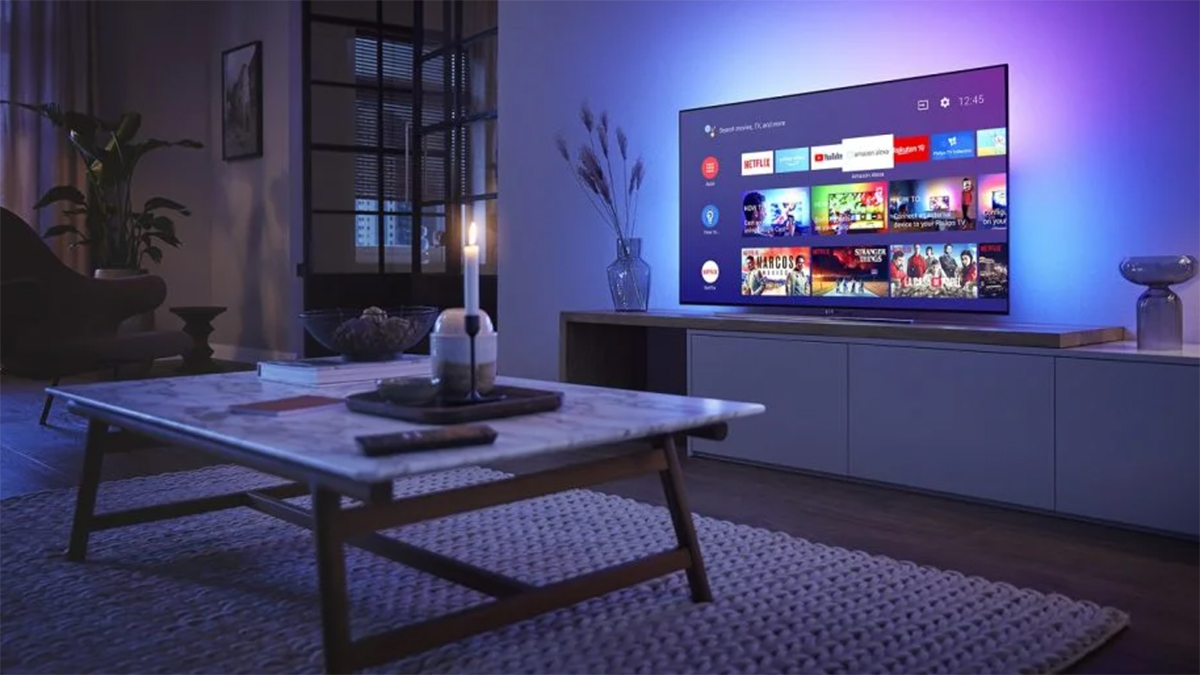 Step 4 – Clean the vents and buttons.
Your screen is clean. Now what? 
Clean the vents and buttons – and don't forget the remote too! 
Go over the buttons on your TV with a microfibre cloth, and then proceed to the vents. To help remove any dust from the inside of your TV vents, you can use a soft-bristle attachment such as the one you might find on your vacuum cleaner, and use a low suction level to remove any dust and debris from the vents, cable connections, and port sockets.
FAQs
Which products should I avoid using on my TV?
Never clean your TV with any products that include ammonia, acetone, or alcohol. Any harsher chemicals could be devastating for your TV and interfere with already existing coatings and sensitive materials. 
How often should I clean my TV?
You should aim to clean your TV at least once a week to keep it in top shape. The main thing to remember when cleaning your TV is to never, ever use any chemicals or cleaners on your TV. Doing so could cause damage to your TV, so it's not worth it. Instead, use the methods provided above (microfibre cloth and screen-safe wipes), and you will have a beautifully clean TV screen without any streaks.
What should I use on my LCD TV or laptop screen?
If you have an LCD screen, do not use any products containing rubbing alcohol, as HP advises that this will definitely damage your screen. 
If you're unsure about what type of screen you have or if the products you already own are safe for your device, it's a good idea to look up your product online or in any included manuals to find chemicals that the manufacturer has listed as restricted for cleaning.
What should I use on my OLED screen?
Different TV display types have specific instructions for cleaning that might require specialized products, it's a good idea to check the manufacturer manual that came with your device or look up the model online to be on the safe side. Some screen types will already have coatings applied, so using the wrong solution on your screen could be catastrophic. 
A quick internet search should point you in the right direction, but you won't cause any harm by using a high-quality microfiber cloth that's lint-free. Just remember to dry your screen and ensure that no water seeps through.