A 70-year-old car aficionado is raking in millions on YouTube, joining the "granfluencers" that are ditching retirement and taking off on social media. 
"Once I got going on YouTube in one month, I would make more money than we saved in 40 years," YouTube star Scotty Kilmer told Fox News. "It makes a big difference. It makes it convenient and self-sufficient, so you don't have to worry about anything." 
THIS 70-YEAR-OLD MECHANIC IS RAKING IN CASH ON SOCIAL MEDIA: 
WATCH MORE FOX NEWS DIGITAL ORIGINALS HERE
A wave of seniors — termed "granfluencers" by marketing agencies — are rising to fame on social media and making big bucks off brand deals. Seniors 65 and older using social media increased from 11% to 41% between 2010 and 2021, according to the Pew Research Center, and some, like Kilmer, started using the apps to profit and pursue their interests. 
"Most people hate their jobs," Kilmer said. "I'm having fun. I'm meeting a lot of people. I'm helping a lot of people out. It's kind of rare that anybody can do that."
DAUGHTER TURNS FATHER'S 11-YEAR-OLD THRILLER NOVEL INTO A BESTSELLER WITH VIRAL TIKTOK
Kilmer hasn't considered retirement yet after becoming famous on social media. The car enthusiast learned about mechanics from his grandfather and later owned a repair shop. He then hosted his own television show "Crank It Up Scotty" about cars for a local Houston TV station. 
In 2007, Kilmer started a side career on YouTube to share his knowledge about cars, filming videos at his Houston auto shop. The YouTube star has nearly 6 million subscribers and his posts have garnered billions of views. The channel has brought in nearly $24 million, according to Kilmer.
"There are literally over a billion people who have cars and don't know anything about them," Kilmer said. "I thought, 'Well, there's a market,' and I just went to help people out and gave them what they wanted."
The YouTube star can be heard busting out a hearty laugh while fixing vehicles and offering advice on car purchasing in his videos. In one video, "Here's Why Broke People Buy Used BMWs and Rich People Buy Toyotas," Kilmer explains the disadvantages of owning a luxury car over a cheaper vehicle. 
FLORIDA WOMAN, 90, GOES VIRAL ON INSTAGRAM AFTER GIVING THIS PIECE OF LIFE ADVICE
"I don't know how many billions of dollars I've saved people by telling them to buy this car, not that car," Kilmer said with a chuckle.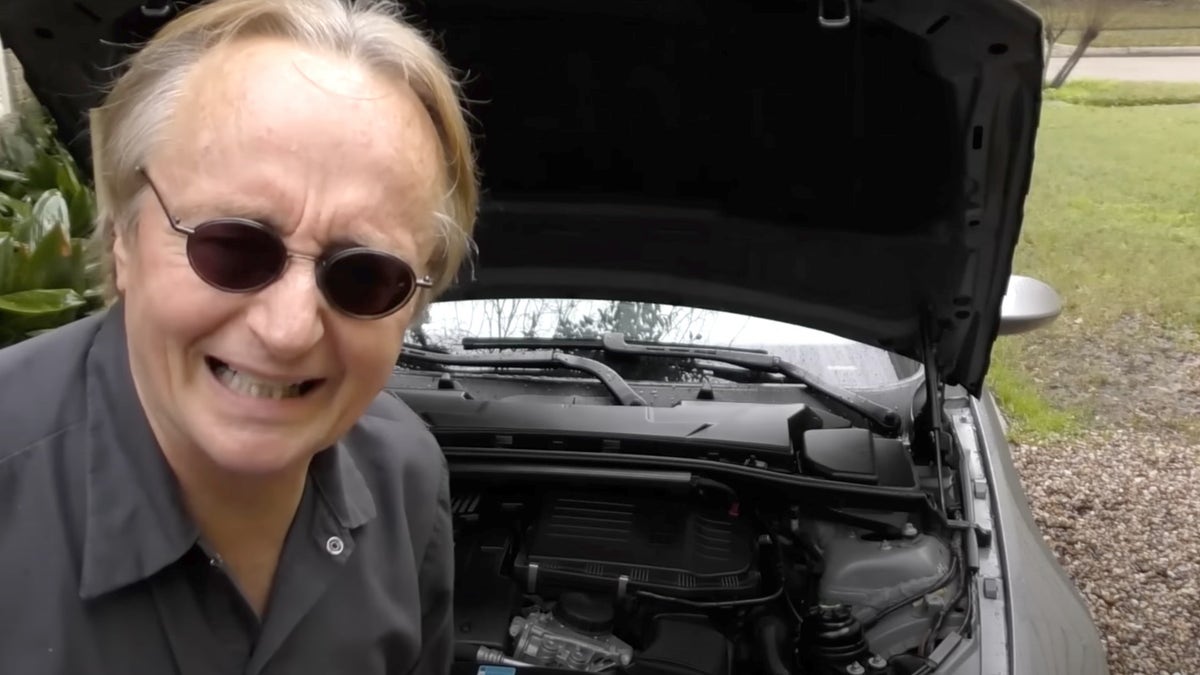 The mechanic loves using his 56 years of experience to help people. 
"I just have a knack for fixing machines," Kilmer said. "People get ripped off so badly by mechanics these days. Cars are so complex that most people can't touch them themselves, and they're just getting totally ripped off by people who know it."
The car aficionado posted a few videos explaining the do's and don'ts for tires and oil filters in November. In an older video with over 20 million views, Kilmer sits inside a car describing five things a car owner with an automatic transmission should never do.
"I control it all," Kilmer said. "I do my own scripts in my head, film it, edit it. I do what I want when I want, and I don't have to be at somebody's beck and call."
Kilmer is not the only "granfluencer" who has found success. Mae Karwowski, founder of Obviously, a marketing agency that connects companies with social media influencers, told the New York Times that "older influencers have popped in popularity." 
"It's really been accelerating‌," over the last year, Karwowski said in June.
A 67-year-old retired engineer, Lynn Davis, for example, started posting cooking videos on YouTube in 2020. She has since expanded and has over 17 million TikTok followers. 
NEW JERSEY GRANDMOTHER GOES VIRAL FOR RANKING HER 10 GRANDKIDS: 'JUST BE CAREFUL!'
Davis, known as "Lynja," cuts a watermelon with an ax in one video. The social media star dresses like a turkey while making the Thanksgiving delicacy in another video.
"Fans are drawn to their authenticity, humor, wisdom and unique personalities," Influential CEO Ryan Detert told The Wall Street Journal. 
Detert, a marketing head that has worked on "granfluencer" campaigns, said the older content creators have a multi-generational fan base that's enticing to brands.
"They are like unicorns in the social-media world, and they touch all generations," Detert said. 
CLICK HERE TO GET THE FOX NEWS APP
Kilmer said age doesn't matter. He attributes his success to telling people the truth through his skills and humor.
"If somebody has got some kind of a skill and they're good at it and they want to give it a try, it costs nothing to make YouTube videos," Kilmer said. "If you have knowledge that other people want and you could share it with people, that's basically what the internet started out for."
Ramiro Vargas contributed to the accompanying video.