Warning: This article contains graphic images.
In a leveled neighborhood in the city of Khan Younis, in southern Gaza, a group of men digging through the rubble found first one hand, then another. When they lifted the body of 11-year-old Sila Hamdan out of the broken cement blocks and dust, they found her sister, 9-year-old Tila, tucked beneath her. 
The girls were killed Tuesday night when a bombing destroyed some 15 homes in the area, killing at least 37, according to local health officials. The recovery of their bodies was filmed by an NBC News team in the Gaza Strip. 
The men wrapped the girls in flowered sheets and carried them to the back of a pickup truck, the smaller one still cradled in one man's arms. They were taken to the morgue and laid alongside a dozen other casualties wrapped in funeral shrouds, as their family members wept.
The death of the Hamdan sisters illustrates the heavy toll the war is taking on Gaza's overwhelmingly young population. Children make up about half of Gaza's nearly 2.3 million people — many of whom were born during Israel's strict 16-year blockade of Gaza and are now watching bombs destroy their neighborhoods.
In 2022, 4 out of 5 children in Gaza were already living with depression, fear and grief, according to a report by Save the Children. More than half said they had contemplated suicide. 
This war has only made it worse. 
At least 2,704 children have been killed, according to Palestinian health officials, since Israel began its bombardment on Gaza in retaliation for Hamas' terror attacks in Israel on Oct. 7 that killed more than 1,400 people in Israel and saw more than 220 taken hostage. Another 830 children are estimated to still be trapped in rubble in Gaza.
"The situation in the Gaza Strip is a growing stain on our collective conscience. The rate of death and injuries of children is simply staggering," Adele Khodr, UNICEF regional director for the Middle East and North Africa, said in a statement on Tuesday.
"Almost every child in the Gaza Strip has been exposed to deeply distressing events and trauma," UNICEF said.
Gaza's humanitarian situation has reached an unprecedented point — with severe shortages of food, water and electricity. Hospitals are functioning on the last drops of fuel. On Tuesday, the Gaza Health Ministry described the health system in southern Gaza as being "in a state of complete collapse."
Israel's military has questioned warnings that a fuel shortage will force it to end its operations in Gaza.
Medical personnel struggled to cope with the hundreds of injuries coming through the doors every day, many of them children.
At Nasser Hospital in Khan Younis, Dr. Akram Ala'auiny murmured reassurances to 6-year-old Zina Alabarshly, who was whimpering and streaked with ash. He told her that she was good, not to be afraid, that she would be going home soon — as medical personnel checked her for injuries. 
He grabbed a latex glove, blew it up like a balloon, and handed it to her.
"Her wound was minor," Ala'auiny told an NBC News crew, "but her psychological condition was terrible."
"I blew a balloon for her and tried to play with her to assure her that she is in safe hands at the hospital as much as possible, and there is hope," Ala'auiny said.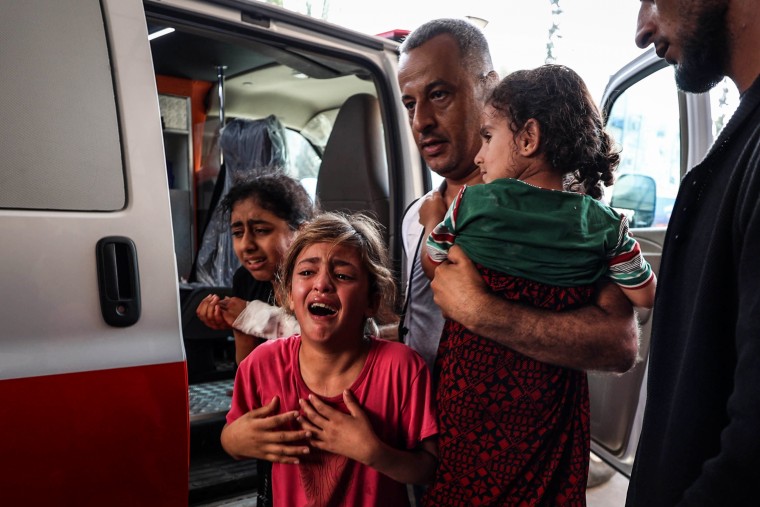 Children's bodies are particularly vulnerable to the impact of explosive weapons, Jason Lee, Save the Children's country director for the occupied Palestinian territory, said in a statement earlier this week.
"Their bodies are thrown harder and further by the blasts. Their bones bend more, increasing the chances of long-term deformities with little chance of recovery," Lee said. "They have less blood to lose."
At the al-Shifa hospital in Gaza City, Dr. Ghassan Abu-Sittah estimated that almost half of the injured are children. 
"Most of the injuries are either like this injury, where there's a direct blast, the effect of that on the tissues of the body, or there's a burn," Abu-Sittah said, as he draped a patient in layers of gauze. Still more injured children were crowded into the hospital's hallways, waiting to be treated.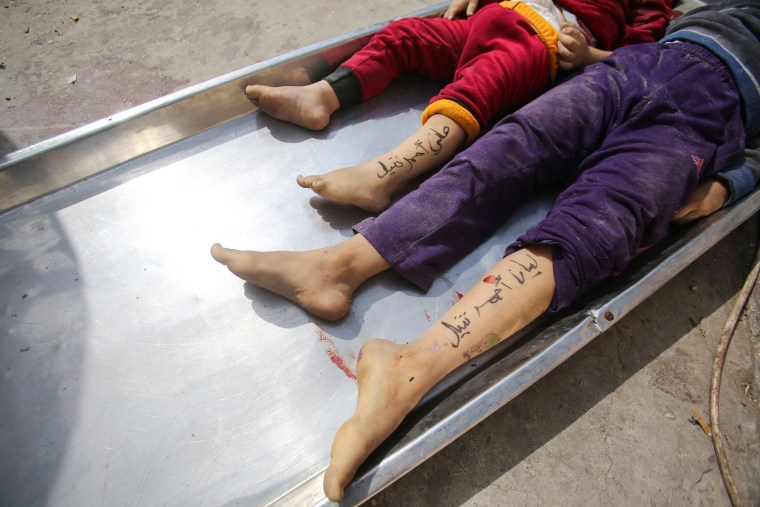 The surge in patients has been so large, Naseralldin Abutaha, an emergency nurse at the hospital, said that sometimes, "we don't even have the time to console or calm a kid. We need to treat as many as we can, as fast as we can." 
According to the Gaza Health Ministry, 12 hospitals have shut down due to damage, or lack of supplies and fuel, along with another 32 primary health care centers, shifting the burden to facilities that remain open, but are overwhelmed and struggling to function.
With death looming seemingly indiscriminately, parents have begun writing the names of the children on their legs, so they can be identified if they are taken to hospitals or morgues. 
At al-Shifa, Abutaha said medical staff have also begun writing names on the hands and legs of the children.
"There are a lot of people dying, so we just write the name so their family can know them," Abutaha said. "When the child's face is not left in a condition to be looked at, we don't allow families to look at children's faces," he said. "It's hurtful."