Artificial Landscape 2.0 by Elsemarijn Bruys at Duth Design Week
On the occasion of the 2023 edition of Dutch Design Week, visual artist Elsemarijn Bruys unveils Artificial Landscape 2.0, a colossal inflatable installation that redefines the interior of the Koelhuis Eindhoven cultural and tech hub. Soaring 60 meters, the structure unfolds into a mesmerizing expanse of neon green organic forms, echoing the fluidity of the natural environment. The striking installation's next destination is De School Amsterdam, where it will take center stage on December 20, 2023.
the Artificial Landscape 2.0 installation | image by Anna Odulinska
Exploring Artificial Landscape 2.0 at Koelhuis
Part of the Bubble Trouble Exhibition at Koelhuis (find more here), the monumental Artificial Landscape 2.0 by Elsemarijn Bruys (find more here) mirrors the scale of its surroundings, captivating visitors with its towering presence. Navigating through the object, guests are enveloped by its constructed comfort and playful charm. Going deeper into the structure, their sense of orientation begins to slip away. Neon-colored walls create a limbo where the boundaries between the real and the surreal start to blur. 
Driven by a profound curiosity for sensory perception, Bruys alternates between making sculptures and architectural interventions. Central to her work is the manipulation of air, a medium she treats as a collaborator. Within her work, the air has the freedom to take its course: rectangles become round, spaces are filled and occupied, objects breathe in and out, and perspectives become deformed. The addition of air makes her objects performative, and the change of form it brings about is simultaneously the core of her work.

the monumental installation mirrors the scale of its surroundings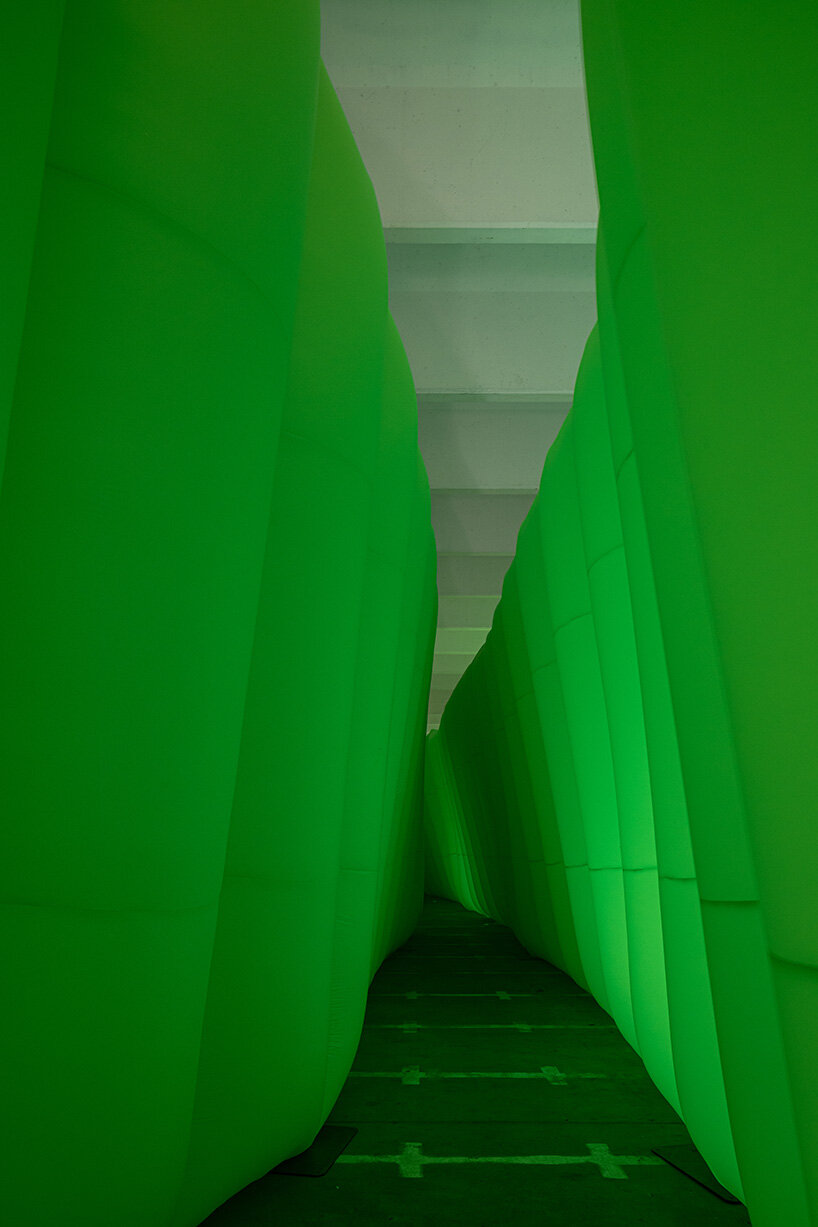 going deeper into the structure, visitors' sense of orientation begins to slip away