atlas concorde: where marble meets marvel
Atlas Concorde's Marvel Meraviglia collection has turned the marble world into a realm of innovation, boasting a striking collaboration with Zaha Hadid Architects, resulting in the Diamond decor pattern. Specifically, the new 2023 Marvel Meraviglia collection originates from Calacatta Meraviglia, the timeless stone known for its unique slender veins and soft weaves.
Hotel Room with Marvel Meraviglia Calacatta Meraviglia Diamond Polished
Marvel Meraviglia isn't just a name; it's an invitation to explore the new, building on Atlas Concorde's Marvel World style project for over a decade. Named after Calacatta Meraviglia, the collection offers a special array of decors. In particular, thanks to the collaboration with Zaha Hadid Architects, the Diamond decor, born from the concept of transformation, presents modular geometries with limitless possibilities for dynamic patterning, creating a visual marvel in interior spaces.

Hotel Lobby with Marvel Meraviglia Calacatta Meraviglia Diamond Polished, Majestic Diamond Polished, c, Calacatta Meraviglia (Wall); Marvel Meraviglia Black Origin (Floor)
Atlas Concorde's commitment to delivering high-end quality becomes evident in their porcelain Velvetech surface with a patent filed in Italy. The technology mimics the effect of polished natural stone, offering a velvety touch and light reflections similar to silk fabric. Building on this and on Diamond, the company expands its Marvel Meraviglia with Calacatta Meraviglia's white, criss-crossed by slender, sparse grey veins, as well as Calacatta Bernini, Silver Majestic, and Black Origin marbles. Calacatta Bernini is essentially the excellence of Apuan marble with a completely white field marked by gray veins in warm tones on each slab, designed to generate harmony in the surrounding space. The natural beauty of Silver Majestic pushes the mind towards the East, with its light gray background furrowed by more intense, tone-on-tone veins, while the Grigio Elegante variant is inspired by a compact stone with natural color uniformity enriched by tone-on-tone grains and mottling that compose an elegant phrasing on the surface.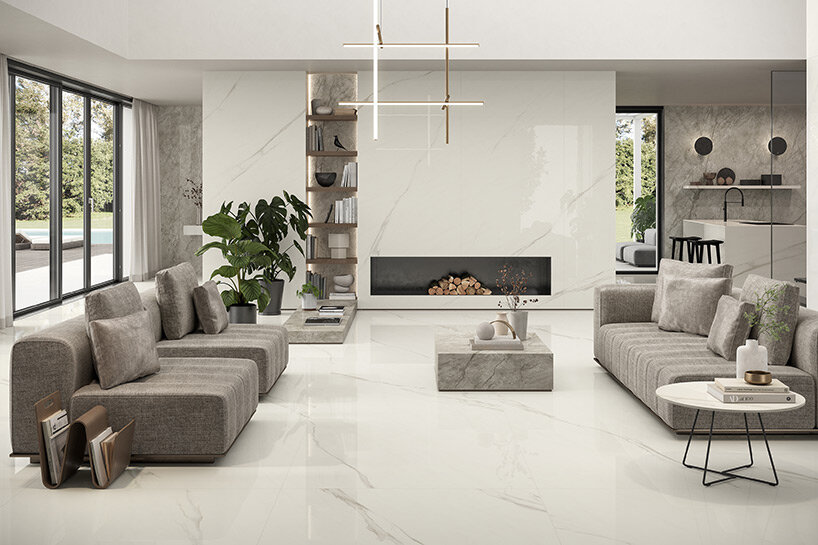 Living Room with Marvel Meraviglia Calacatta Meraviglia, Silver Majestic
marvel meraviglia meets growing contemporary needs
Aiming to inspire designers and meet the needs of contemporary interiors, the company offers a rich selection of diversified finishes. Hammered is a textured, marked finish that mimics one of the oldest marble processing methods, replicating the natural effect of 'split' marble and offering the appeal of a stone cut fresh out of the quarry. In the 60×120 (9 mm) format it features Sensitech technology, patented in Italy by Atlas Concorde, which guarantees high levels of slip resistance and a soft touch, durability, and ease of maintenance and cleaning. For outdoor use it comes in a 60×120 format with 20 mm thickness. Other finishes available include Mat with a contemporary flavor enhanced by Sensitech, and Polished with a mirror surface for an extremely precious effect.
Atlas Concorde research has also given Marvel Meraviglia the strength of a bespoke decorative range. First of all, the Diamond Decor designed by Zaha Hadid Architects. Other decors include Hexagon, in which the central element is the hexagon, explored as a module in all its possible combinations. Grid Mosaic is a harmonious, dynamic sequence of staggered vertical lines crossing the surface. Thanks to this detail, this surface is available in all colors and only with a Velvet finish, succeeds in giving the space a dynamic yet balanced feel.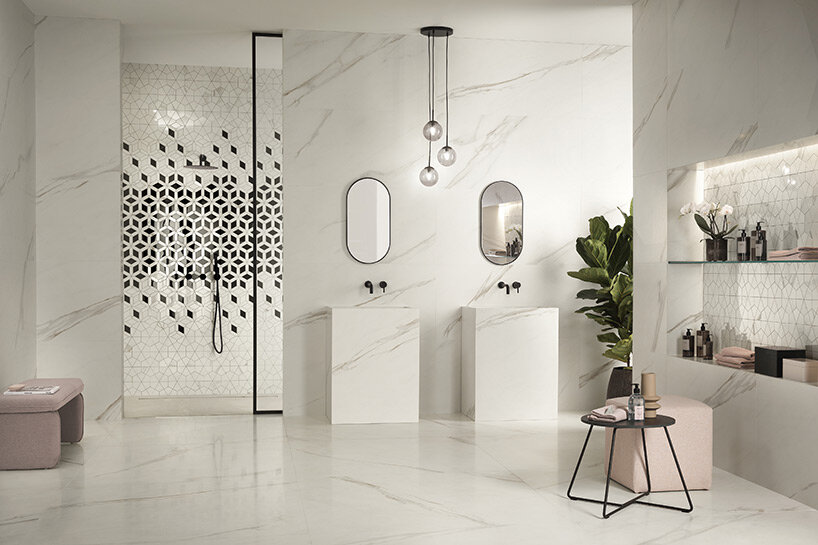 Residential Bathroom with Marvel Meraviglia Calacatta Meraviglia Velvet, Calacatta Meraviglia Diamond Velvet, Calacatta Meraviglia Hexagon Polished
zaha hadid architects develops the diamond decor for atlas concorde
Drawing inspiration from Cosmatesque mosaics, widespread in Rome between the 12th and 13th centuries, the Diamond transforms the mosaic into a dynamic, evolving design with interconnected shapes and colors moving from Calacatta Meraviglia to Black Origin to Silver Majestic. The pattern challenges traditional geometric repetitions and introduces a captivating metamorphosis within the tiles. Defined by algorithms developed by Zaha Hadid Achitects for the collection, the rigid geometry changes to produce a subtle vivacity that enables designers and planners to focus attention on specific spaces; to characterize an area with a special element; or to allow a the surface to define the nature of a space. The collaboration builds on the combined history and expertise of Atlas Concorde and ZHA and is based on their shared values of international focus, leadership in interior projects, pursuit of excellence, and dedication to environmental sustainability issues.
'The collaboration with Atlas Concorde led to a project in which ZHA blends a classic mosaic with a disruptive element. Like an inclusion in a diamond, the insertion of a foreign body into a crystalline structure lends an unexpected dynamism to the strict repetition of the rigid geometric structure. In the resulting design, the inclusion of new logic creates a metamorphosis of the shape of the tiles as the transition from one color to another occurs,' says Paolo Zilli, Associate Director of ZHA.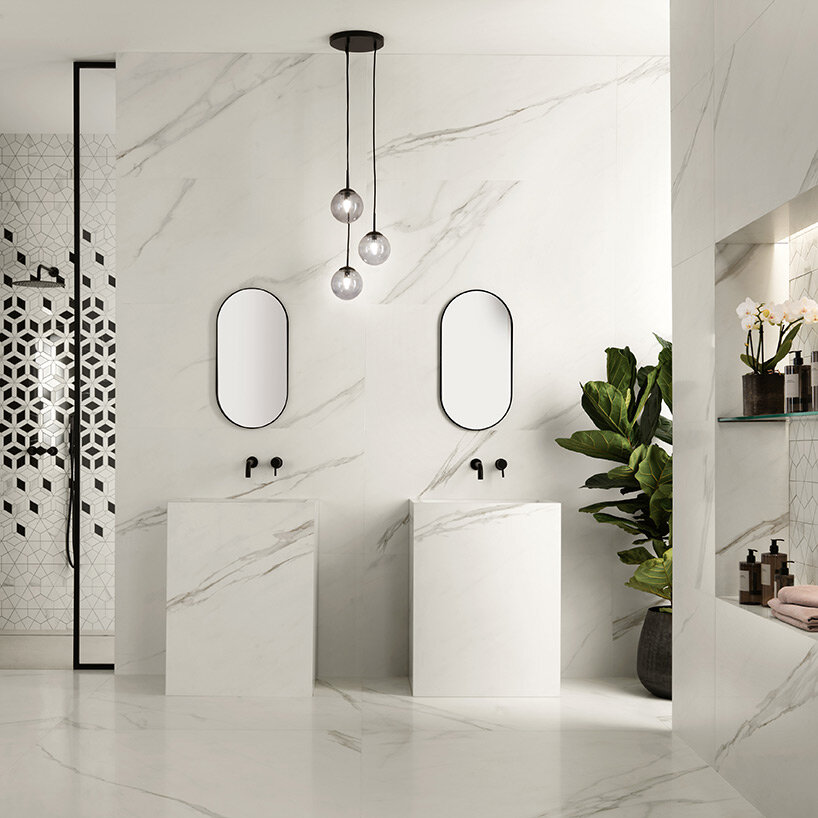 Residential Bathroom with Marvel Meraviglia Calacatta Meraviglia Velvet, Calacatta Meraviglia Diamond Velvet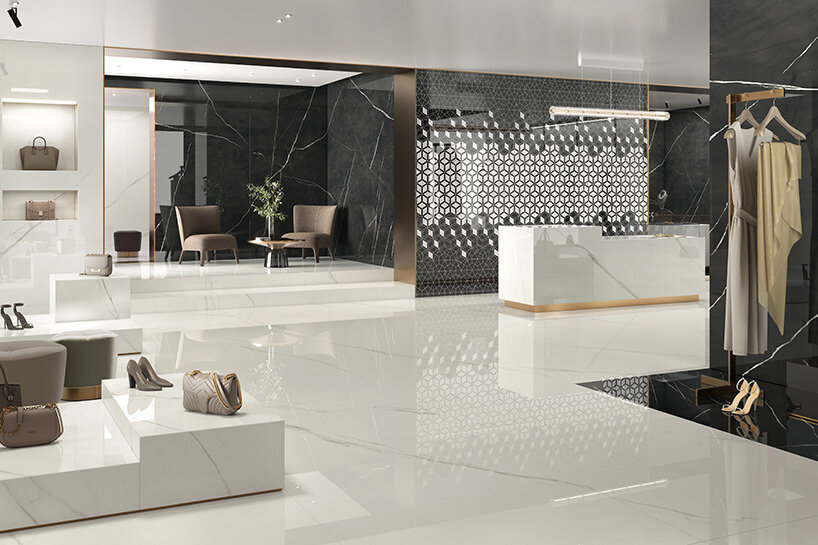 Boutique with Marvel Meraviglia Calacatta Meraviglia Polished, Black Origin Polished, Marvel Meraviglia Black Origin Diamond